Art Market San Francisco | April 29 – May 3, 2015 | Apply Now
Art Market San Francisco will return to the beautiful Fort Mason Festival Pavilion thisApril 29 – May 3 to celebrate its fifth edition as the Bay Area's leading contemporary and modern art fair.


Art Market San Francisco's fifth year will kick off with a benefit for our longtime partner,the Fine Arts Museums of San Francisco, comprised of the de Young and the Legion of Honor. This year, for the first time, the Benefit Preview Reception will have its owndedicated evening on Wednesday, April 29th, open exclusively to event donors. With creative oversight from Ken Fulk Inc., and great food, drink, and entertainment, theBenefit Preview will be an exciting First Look at the best in contemporary and modern art from around the world.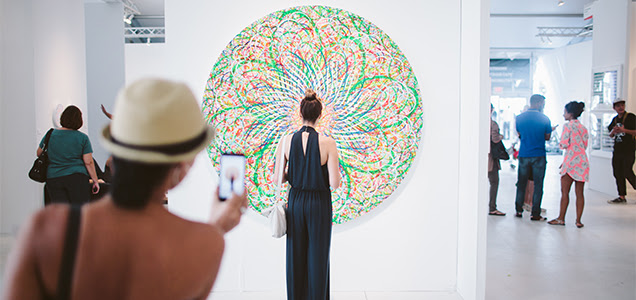 We are excited to welcome back many of our esteemed local exhibitors including Catharine Clark Gallery, Rena Bransten Projects, Brian Gross Fine Art, Ever Gold Gallery, Traywick Contemporary, Patricia Sweetow Gallery, Adler&Co Gallery, jack fischer gallery, and Eleanor Harwood Gallery. Our 2015 exhibitors will build on the momentum of last year's fair, which drew over 20,000 visitors to Fort Mason. The Battery, San Francisco's exclusive multi-disciplinary social club, will return for a second year to curate Art Market's VIP Lounge and to lead a series of collector tours during the fair. Art Market's robust programming schedule will include special artist presentations, talks by Bay Area curators, collectors, and designers, and panel discussions on relevant topics including non-traditional and creative ways to engage the individual with art.
Driven by our relationships with the area's top cultural institutions and partnerships with the city's most influential tech companies, our top-tier art, exciting programming, and strong city-wide partnerships are sure to make Art Market San Francisco's fifth edition ourmost compelling yet.


For more information and to apply visit artmarketsf.com